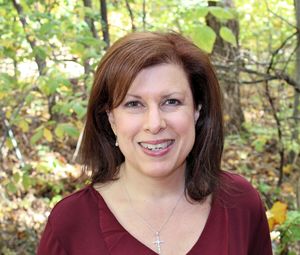 Kathy Beach, MS, ATC, CHC is a Certified Health & Nutrition Coach who lives and works in Collinsville, Connecticut. She earned a Master's degree from Wake Forest University in Winston-Salem, NC in Exercise Physiology and Cardiac Rehabilitation, as well as a Bachelor's degree from SUNY Cortland in Physical Education and Athletic Training. Kathy became the first exercise physiologist at the Virginia Heart Institute at Fairfax Hospital, Falls Church, VA in the Cardiac Therapy Program. She also worked as the head athletic trainer for Falls Church High School, Falls Church, VA. After a short break to stay home with her children, Kathy pursued her certification as a STOTT Pilates instructor and opened her own studio teaching Pilates-based therapeutic exercise both privately and to small groups.

In 2009, Kathy was diagnosed with Stage 2 breast cancer and had surgery, chemotherapy and radiation. While doing research on the best way to speed recovery from breast cancer surgery, she found the Pink Ribbon Program and immediately got involved with the program and pursued certification as soon as she felt well enough. One of her new goals was to find a way to use her prior training, personal experience with breast cancer and the Pink Ribbon Program to help the growing population of breast cancer survivors get back to their lives and activities after treatment. Also, in 2009, she completed the American College of Sports Medicine's Cancer Exercise Trainer certification.


It became clear that whether she was working with athletes, cardiac patients or cancer survivors, everyone needed support and guidance to create optimal health and wellness in their lives. This realization led her to the field of Health & Nutrition Coaching and to The Institute for Integrative Nutrition (IIN) based in New York City. It is the largest nutrition school in the world and the only school that integrates all of the different dietary theories, while keeping in mind the concept of bio-individuality – understanding that each individual has unique food and lifestyle needs. After completing the one and a half year program in 2011, Kathy opened her practice Integrative Health Management and now provides private health coaching in person or via phone or Skype. She also teaches small group programs called Change Your Eating, Change Your Life locally and workshops on The Anti-Cancer Lifestyle for Hartford Hospital's Department of Integrative Medicine.


Kathy specializes in coaching cancer survivors and feels that it is her purpose and mission in life to empower people to successfully navigate the cancer journey and move forward into a life of health and vitality.