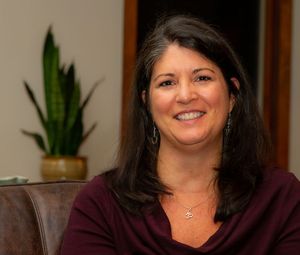 Mary eagerly joined the Chi team when the opportunity arose. She has been a patient of David's for years and can often be heard telling others, "I literally wouldn't be standing here without David. He helped me save my life." Now, she feels honored to give back to other patients. Whether it is a smile when they walk in the door, a kind voice on the other end of the phone, or setting up a room "just so", it brings her great joy to part of the positive energy we co-create at Chi.
Mary studied English Literature at UConn and went on to become an elementary school teacher. She has her Masters in Early Childhood Education and is AMI Montessori-trained. Mary worked in the field of education for over 20 years, as a teacher and literacy specialist. Her favorite aspects of teaching were creating a classroom community each year, and empowering her students to be responsible for their own learning. She sees many parallels between her classroom and Chi Healing Center. David has created a beautiful community at Chi, and empowers our patients to play a fundamental role in their own healing. She sees him as a teacher, as well as a gifted healer.
When Mary isn't at Chi, she is committed to enhancing her health and the health of her family and friends. She is learning alongside like-minded people in a certification program at The Institute of Sustainable Nutrition in Granby. It combines her love of nutrition, using food as medicine, and growing and preparing organic food. She loves putting what she is learning into practice and sharing her knowledge (and creations) with everyone who is interested.